3 Section Timber Folding Loft Ladder LWK Komfort
This great 3 section folding timber loft ladder is the ideal solution for accessing your loft if you intend to make regular visits to the loft. Coming complete with hatch and frame this loft ladder comes in a wide variety of hatch sizes to suit most circumstances. All hatches offer a generous amount of space within which to walk up the ladder, as well as being able to take objects into the loft. Clearly, the larger the hatch size, the easier it is to take large objects into the loft.
The 3 section timber loft ladder is a pre assembled folding loft ladder of exceptional quality and design (note - hatch sizes 1000mm or under are 4 section ladders and do not come with rubber feet). The loft ladder requires little or no clearance inside the loft. Balance springs assist opening and closing.
Superb quality loft ladder
Achieves Floor to ceiling between 2.3 – 2.8m
Sections fold to fit within the length of the hatch
Achieves U value of U = 1.1w/m2K
Safe deep non-slip treads
Ready assembled
Hinged ladder sections: softwood and Handrail
Insulated hatch cover
Hatch frame
Operating hardware and pole
Please note product codes which end in "T" indicate a taller loft ladder with a maximum floor to ceiling height of 3.05m. All other standard sizes qualify for the maximum height of 2.8m
Please click on an image below to download a brochure or flyer
*Please note: Image shows hatch with brackets- brackets purchased separately*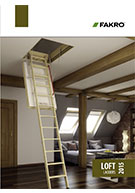 Loft Ladder Brochure
Fitting Service
---
| | |
| --- | --- |
| | Products listed as NEXT WORKING DAY DELIVERY must be ordered before 1.00pm in order for them to be despatched the same day. Orders received after 1.00pm will be despatched the following working day. |
| | Need any further advice? Call us now on 0870 604 0404 |
Related Products
Excellent Service.
Reviewed on 10/12/2019 by Newman Floyd
Excellent service and technical help, when I called for advice.
Good work all!
Timber Ladder Komfort 1110 x 700
Reviewed on 02/05/2019 by Shoshana Waller
Cant complain, delivered on time, product complete. Only comment, online photo shows hatch with brackets, a bit misleading! Need to purchase separately.
Very Pleased
Reviewed on 19/10/2017 by Mrs A Dennett, Chichester
Everything was fine. I ordered the 1110 x 550 ladder and it was put in yesterday and looks quite sturdy. I am very pleased thank you.
Service excellent
Reviewed on 19/01/2017 by Loft Ladder Timber Komfort
Service excellent
Delivery next day
Small amount of damage to loft frame but easily fixed
Timber Ladder Komfort 940 x 700
Reviewed on 11/08/2016 by Mrs H White
This ladder is wonderful, I can now safely go into my loft whenever i wish on my own. Fabulous item
Timber Ladder Komfort 1110 x 600
Reviewed on 27/06/2016 by LA Seaford, Borehamwood
Arrived on time - left everything clean and tidy. Great job, thank you.
(Ed - customer had this product installed)
LWK - 280 KOMFORT Loft Ladder
Reviewed on 14/04/2016 by R Aitchison, Beds
Everything went well from the moment of ordering, perhaps knowing when delivery would be there, a little quicker
940 x 600 loft ladder
Reviewed on 14/04/2016 by Mr White, Durham
Ordered on Tuesday, received Thursday. Excellent product, service and delivery. Well done
4 section timber loft ladder LLTFK1070
Reviewed on 15/02/2016 by Robert Wiessman
I had my loft ladder installed by The Loft Shop Fitting Team.
The two men team who fitted our (4 section) timber loft ladder and hatch door were friendly and efficient- and quick!
Therefore i recommend The Loft Shop.
Fast Delivery
Reviewed on 27/11/2015 by Tracey, L/Mill
Instructions not good, but can log on, online; safer for kids to use
Such good quality...
Reviewed on 16/11/2015 by KF Bateman, Froxfield
Such good quality that our builder will be recommending this loft ladder to future customers
World Class
Reviewed on 16/11/2015 by Mark Bamford, Tangmere
This loft ladder is truly world class. I had one put in my newly converted garage which is now a dining room. Great quality, perfect for multi-use... i am looking forward to getting up into the loft and playing with my scalextric and Hornby railway set!
Happy
Reviewed on 12/10/2015 by J O'Hara
Happy but...
Damage to corner of box caused by couriers b roke product, but carpenter managed to repair. Box probably dropped in transit.
The Second ladder i have bought in 10 years!
Reviewed on 02/07/2015 by E Idle, Gillingham
The second ladder ive bought in 10 years! everything was very very good...ordering and delivery next day was stunning...worth 6 stars!
Very Happy with Loft Ladder Installation
Reviewed on 17/06/2015 by Guy Kweshi
I had a loft ladder installed through Loft Shops fitting service. Fitter was friendly. Everything was straight forward and well laid out. Also no suprises or hidden charges. Got exactly what we had hoped for. AND, he had an apprentice, so it was nice to support young skills developement.
Excellent delivery time
Reviewed on 07/05/2015 by Mrs C Gasan, Tiverton
Excellent delivery time. Ordered at 08.30p.m and it arrived the next day!