Optilight Centre Pivot Wood Roof Window
OptiLight is the new brand on the roof window market, offering a high quality product at an affordable price. The modern technology of woodworking and preparation of raw materials, the quality control at every stage of the production process and quality tests carried out by independent laboratories are a guarantee of high quality in OptiLight roof windows.
Thanks to the applied industrial design of the metal cladding parts, the OptiLight gains modern and attractive look.
Good quality centre pivoting wood roof window for use in roof slopes 15-90 degrees
High quality wood
Thermally insulated glazing unit
Sash rotates through 180 degrees
Simple installation
FLASHING KITS ARE USUALLY NECESSARY FOR ROOF WINDOW INSTALLATION AND ARE AVAILABLE FOR TILE OR SLATE ROOFS UNDER RELATED PRODUCTS
Optilight Roof Windows

Large effective glazed area, facilitates room illumination. Pivot structure and functional handle placed in the bottom part of the sash ensures comfortable use and operation.
The window has a large effective glazing area, which allows more light to enter the room. All windows are double glazed, and use a single chambered construction and acoustic properties. Space between panes is filled with inert gas. The internal pane is coated with a heat reflecting low-emission layer. It helps to reduce heat loss during winter and overheating during summer.
The wooden profile of the sash has been made paying extra attention to its aesthetic values.
Different flashing types make it possible to install OptiLight windows in majority of roofing coverings in the roofs with different pitches.
Design of external metal cladding elements used in OptiLight windows add to their modern and aestheticall pleasing appearance. A wide and comprehensive range of accessories raises window usage comfort providing the possibility of light control, heat reduction and energy savings
Insulated glazing

The windows are equipped with 24mm thick, single chamber glazing units (4H-16-4T) providing outstanding insulating properties as well as excellent acoustic performance.
High quality wood

Wooden elements of the OptiLight windows are made from especially sorted, highest quality pinewood which is bonded in layers, impregnated, and coated with an ecological acrylic finish. The wood is protected on the outer surface with weather and UV resistant aluminium profiles.
Additional wood protection

The wooden sash has been equipped with plastic corners protecting those fragile areas from moisture.
Metal cladding

Metal cladding elements of OptiLight windows are made of suitably thick aluminium sheet which adds to their resistance to mechanical damage during transport, installation and window usage. The sheet is coated with polyester which is fully weather-resistant.
Structure

OptiLight windows have a centre-pivoting construction. The hinges installed in the middle of the window allow the sash to be opened in a range of positions and to be rotated up to 180 degrees. The handle design enables tight closing and two positions of micro ventilation. The handle positioned at the bottom of the sash makes using the window easier and more comfortable, irrespective of the height at which the window is installed.
Wide range of application

Thanks to the construction of windows and flashings OptiLight windows can be installed on roofs at any pitch between 15 to 90 degrees.
Air inlet

The air inlet of OptiLight VA type efficiency is up to 20 [m3/h]. It is the air quantity, which flows into the room through the window with 78cm or 114 cm width and pressure difference of 10 Pa. Windows with 78cm width and bigger have in the air-inlet slat 2 openings. In windows with 55 and 66 cm width, air-inlet efficiency will be respectively lower and is 15 [m3/h]. The windows with 55 and 66 cm width are equipped with air-inlet slat with one opening.
Toughened glass

OptiLight roof windows have been equipped with toughened external glass
Click on the brochure below to see the 2016 Optilight Catalogue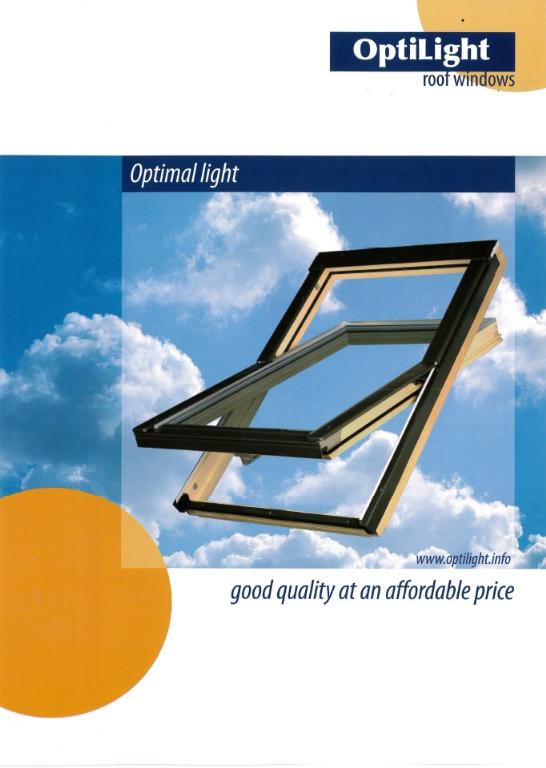 Fitting Service
---
| | |
| --- | --- |
| | Products listed as NEXT WORKING DAY DELIVERY must be ordered before 1.00pm in order for them to be despatched the same day. Orders received after 1.00pm will be despatched the following working day. |
| | Please dont forget to buy the blinds, click here to go to blinds section. |
| | Need any further advice? Call us now on 0870 604 0404 |
Related Products
Efficient Service
Reviewed on 24/06/2019 by C Marshall
No complaints really. Missed phone call to advise delivery, but was home so no issue. Thank you for your efficient service.
Optilight roof window
Reviewed on 16/11/2015 by Mr W Wickins, Chigwell
Thanks Loft Shop
Reviewed on 19/02/2014 by Oliver Paul
Although I had not heard of this roof window brand before the price was very competitive and I now have 3 of them safely installed side by side in my loft (I am using the space as a temporary study before we convert the loft at a later stage)
The product arrived on time and I am impressed with the quality. Thanks Loft Shop for bringing this roof window to my attention!