Fakro Fixed Roof Dome DXC
The Fakro roof dome comes as a complete unit with dome and upstand. The Fakro roof dome has a single skin dome covering a double glazed glass unit.

The DXC is a fixed non-opening roof dome.
Perfect thermal insulation parameters.
A specially profiled covering material under the drip cap of the frame facilitates the finishing of the window connection with the roofing material.
The flat roof window can also be mounted on an additional base with a height of 15cm, which raises the window and allows its installation, e.g. in green or living roofs.
Please click on an image below to download a brochure or flyer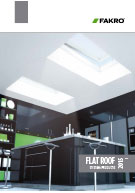 Roof Dome and Glass Brochure
Fakro Dome Windows

The benefits of natural illumination of the building are unquestionable, but it happens that in buildings with flat roofs it is not always possible to install standard vertical windows. Every room should provide a source of natural light for a dweller to feel comfortable. The ideal solution in such cases is the installation of specially designed flat roof windows.

Fakro flat roof windows illuminate interiors with natural light, provide room ventilation and combine high functionality with perfect thermal parameters. Now every room under the flat roof can be warm and full of natural light.

Window Structure

The frame of the flat roof window is manufactered with multi-chamber PVC profiles. The internal surface of the frame is white (RAL 9010). The material from which profiles are made have a high resistance against acids and very low moisture absorption, therefore the window can be installed in every room. Profiles are filled inside with insulating material, thus additionally improving the energy saving parameters of the product. The specially profiled covering material under the frame drip cap facilitates the finishing of the window connection with the roofing material.

The dome window is equipped with a double glazed unit with laminated internal glass which is anti-burglary P2A class as standard. Should the pane crack, shards of glass do not pose a danger but remain on the laminate film. The P2 glazing unit has an innovative and patent-pending dome installation system which increases its anti-burglary resistance. The dome is made of durable polycarbonate. It is characterised by high resistance to impacts and adverse weather conditions such as rain or hail. Special coatings on the outer and inner surface of the dome protect against UV radiation.

Glazing Units

The heat transmittance co-efficient for the whole window is U=1.2 W/m2K (to EN 12567-2) which is as much as 14% better compared with other manufacturer's windows of a similar size.

Installation Range

The dome unit is suitable for roof pitches between 2 and 15 degrees.
---
| | |
| --- | --- |
| | Products listed as NEXT WORKING DAY DELIVERY must be ordered before 1.00pm in order for them to be despatched the same day. Orders received after 1.00pm will be despatched the following working day. |
| | Need any further advice? Call us now on 0870 604 0404 |
Related Products