Fakro Centre Pivot Timber Roof Window FTP-V P2
The Fakro centre pivot timber roof window with increased resistance to burglary with anti-burglary class P2A. Window is equipped with structure reinforcement provided by the topSafe system.
High quality centre pivot timber roof window for installation into roof slopes 15-90 degrees
20 Year Glazing Guarantee
Knot Free Timber
High Standard Finish
U-Value 1.2W/m2K
Great Prices
FLASHING KITS ARE USUALLY NECESSARY FOR ROOF WINDOW INSTALLATION AND ARE AVAILABLE FOR TILE OR SLATE ROOFS UNDER RELATED PRODUCTS

Fakro roof windows provide the highest standard in roof windows, offering knot free timber every time, high quality finishes and a 20 year guarantee
A very well equipped centre pivot window version with hinges positioned in the middle of the window height.
Easy operation by the use of handle positioned on the lower part of the sash and secured open in two positions.

Equipped with an automatic air-inlet V40P providing the optimum amount of air into the room. V40P air-inlet ensures a healthy microclimate in the attic and saves energy.

Easy and safe cleaning of outer pane and awning blind installation-thanks to the bolt enabling blocade of the sash rotated through 180 degrees.

Available with various types of glazing units
Fakro Roof Windows
Fakro roof windows are designed to provide a focal point for any room whether you use them individually or in combinations. Their stylish appearance is matched by the highest standard of manufacturing and finishing which means you can rest assured they will go on looking goos for years to come. Fakro Roof Windows offer a perfect combination of style, sustainability, security and long design life. To achieve such high performance involves ongoing refinement and improvement to every roof window that that Fakro designs.
Bigger glazing area and more light
The design of Fakro roof windows enables more light to be brought to any room. By placing the air inlet at the top of the frame, Fakro roof windows provide a glazing area up to 10% bigger than competitors products of the same size, in which the ventilation flap has been fitted in the sash. The operating handle in the base of the sash is always more convenient for the user.
Timber quality
The redwood pine that Fakro ues offers the clearest visual evidence of roof window quality. Not only does its close grain look stylish, timber comes from FSC certified sources. The double vacuum process using water-borne preservatives provideslasting dimensional stability and all windows are finished with three coates of environmentally freindly lacquer.
Windows for bathrooms, wetrooms and kitchens
Fakro offers two types of roof window for rooms in which high levels of humidity are created. You have the choice of either polyurethane-coated pine or PVC in white, golden oak and pine finishes. So, whether you want to match the existing windows and doors or have a smooth timber finish in white Fakro has the perfect solution. Fakro PVC veneers also achieve the highest level of measurable performance - Class A - EN12608
Automatic air ventilation in all windows
Many manufacturers use a standard manually operated vent which is inefficient, causing unnecessary heat loss.The Fakro V40P automatic vent which is installed in Fakro pine roof windows is activated by changes in atmospheric pressure. It provides the optimum balance of fresh air regardless of weather conditions
Exceptional security
Fakros Top Safe system provides peace of mind that our roof windows offer exceptional burglary resistance. In contrast to products which break simply by applying foot pressure, TopSafe provides additional hinge and lock reinforcement to prevent the sash from being forced. An EUStandard (EN13049) now means you can compare roof window security and all Fakro products achieve a minimum of Class 3. Fakro also manufactures a standard centre pivotwindow, the FTP-V P2 Secure,m which has security glazing.
The highest level of energy saving performance
What really sets Fakro roof windows apart is their low level of heat loss. Unlike some manufacturers who provide U-values just for glazing units, Fakro provides information for the whole window.
Warm glazing spacers
Many roof windows use metallic spacers to seperate panes and these encourage condensation to form by forming a cold 'bridge' between them. By contrast, Fakro uses only warm spacers in order to ensure that this otherwise common problem does not affect Fakro roof windows.
Ease of Installation
The easy to use 'bracket fix' installation system enables windows to be fitted either to rafters or battens. Windows can also be fitted onto sarking
Performance Guarantees

Whether buying natural pine, PU-coated pine or PVC Fakro offers a 10-year warranty for all windows and a 20 year warranty on glazing units.

Please click on an image below to download a brochure or flyer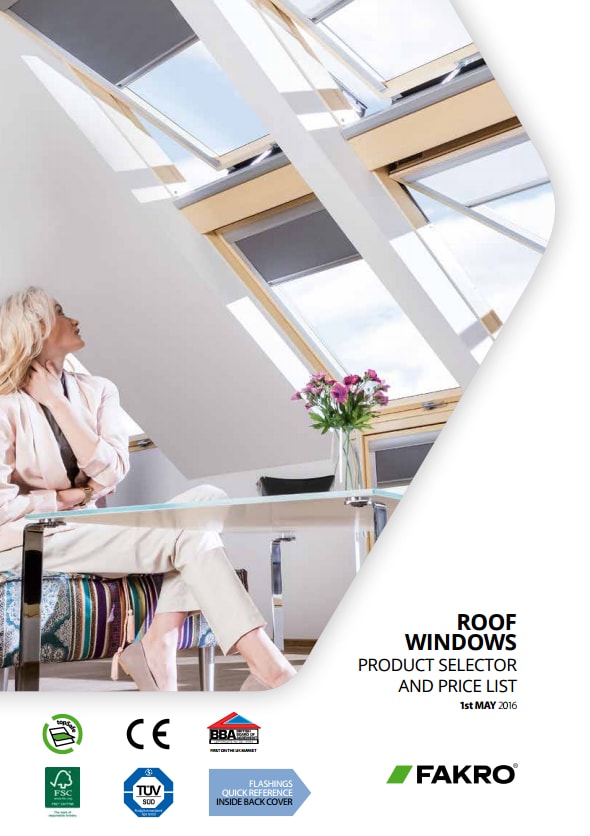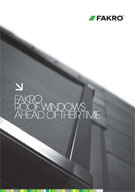 Roof Window Catalogue Windows Ahead of Their Time
Fitting Service
---
| | |
| --- | --- |
| | Products listed as NEXT WORKING DAY DELIVERY must be ordered before 1.00pm in order for them to be despatched the same day. Orders received after 1.00pm will be despatched the following working day. |
| | Please dont forget to buy the blinds, click here to go to blinds section. |
| | Need any further advice? Call us now on 0870 604 0404 |
Related Products
Smooth
Reviewed on 14/11/2017 by Paul Rolt, Hebron
Everything was very smooth and order arrived promptly.
Lovely finish
Reviewed on 26/02/2014 by Dr Thomas Worthington
I am mightily impressed with the quality of finish on this roof window. I would certainly recommend Fakro roof windows.
Also delivery from Loft Shop was as stated.